Crown and Bridge Procedures
Severely broken down teeth can be restored with crowns. The enamel of the tooth is removed and a porcelain crown is laboratory fabricated to replace the enamel portion of that tooth. The crowns are then permanently cemented. With today's technology, we have an array of materials to choose from, such as Procera or Zirconia ceramics, which mimic if not enhance the appearance of your smile. We can correct discolored, malformed, decayed and malpositioned teeth by preparing a tooth for a crown. Also when a tooth is missing and the adjacent teeth would benefit from crowns, porcelain bridges are a great option to replace a missing tooth.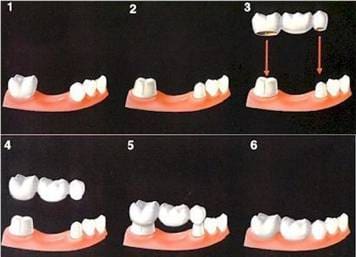 White Fillings/Inlays/Onlays/Crowns/Bridges
Tooth colored materials can be used to keep your teeth looking natural. With all the controversy of fillings which contain mercury and the unattractive appearance of tarnished amalgams/silver in your mouth, tooth colored materials used to restore your teeth are a healthy and wonderful way to cosmetically enhance your smile and rid your mouth of the unsightly "Grey" or "Black" areas of your teeth.
Veneers are thin porcelain facings that are adhered to your teeth. They are a less invasive technique that can be used to greatly improve your smile. The dentist only shaves a thin layer off the front aspect of the tooth and adheres / bonds the veneers to your teeth, instantly changing your look.